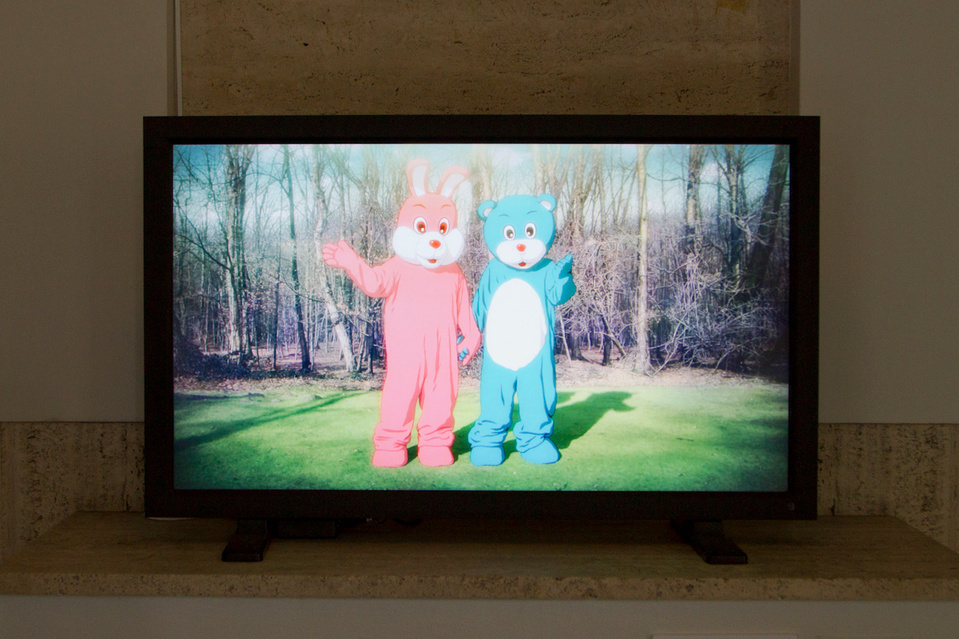 I spent late March and April in Japan this year, as the entire country was being transformed through the uplifting cherry blossom season. Besides visiting my family and friends, I was looking forward to absorbing the exciting Tokyo art scene.
I usually visit about 10 museums and galleries when I'm in town, and the Hara Museum is always a highlight. If you'd like to check out the current art scene in Japan, then this place should be at the top of your list. I've seen works by Sophie Calle and Mika Ninagawa there, and many more.
Located in a quiet residential district of Shinagawa, the Hara Museum is one of the oldest contemporary art galleries in Japan. It was originally built as a private mansion in the Showa period, and the grounds are an oasis of peace inside one of the world's largest cities. If you go there, be sure to wander around the beautiful Japanese garden.
This time the Hara was showing Masaharu Sato's "Tokyo Trace". And it was one of the highlights of my entire trip.
Sato is best known for a unique form of animation that he creates by carefully tracing actual video images and photographs. He shoots digital images of ordinary scenes and then uses a software pen on his computer to re-draw them, one frame at a time. Each work retains a photographic base, but some parts look sightly different or "off" from reality.
The first room featured "Calling," two short films that Sato created in Japan and Germany. The film moves through a number of scenes. In each one, a phone is ringing on and on, but there's no one to answer it. Despite the visible absence of people, you feel a strong human presence from the objects in these spaces: a steaming cup of coffee, a running shower, half empty beer glasses in a karaoke room. You feel the caller's alienation from society, his aloneness and longing for human contact, and it makes the audience feel helpless as well.
In another major work called "Tokyo Trace," only a specific part of each image is re-drawn. On one screen we see a woman taking a dog for a walk. The woman is animated, but the dog is not. But take a look behind that screen and you'll see the flipside: the exact same video, but this time it is the dog and its leash which are traced. In flipping our perspective, Sato completely changes the way we understand this simple everyday scene.
Another video brings us to a typical park. Everything in the frame is still like a photograph, except for one of the swings. It's traced, slightly buzzing image moves slowly back and forth.
At first glance you think you're looking at a video or a photograph. And then you realize that something is off. Your eye gradually picks up on the fact that part of the image is animated, and you can't stop looking at it because this traced part attracts your attention, and it even begins to look more 'real'. The effect of this gave me an uneasy feeling.
As I went through Sato's works one by one, my brain shifted the way in which I processed the images. Those fictional parts became more significant than the rest of the factual parts. And this strange shift in perspective continued after I left the museum. As I walked back toward Shinagawa station, I started seeing animated flowers along the sidewalk, and a passerby crossing the street seemed to flicker just like Sato's traced subjects.
Sato developed this technique during the 10 years that he lived in Germany. The act of 'tracing' became a ritual that brought him closer to an unfamiliar place. He says that he felt he could connect to the objects through the act of tracing them. Maybe that's why his works give the viewer a melancholy feel?
I've been an expat for more than 20 years, and so I understand how it feels to be the perpetual outsider. Photography helps me connect to the community and the people around me, just as the act of tracing helped Sato to identify what was important to him in a foreign environment where he felt totally invisible.
Everyone paints the world in his own way in order to understand the self. And Sato suggests that maybe we're living within layers of traced illusions that float up from our own imagination, giving emphasis to the outside according to our own interior worlds.
To see some of Masaharu Sato's work, please visit: masaharu-sato.tumblr.com/